Our History
If you have any questions or would like any more information about our company please feel free to Contact Us. If you are planning on buying your next dream home visit our Buyers Page or if you are planning on selling your home visit our Sellers Page.
In the early 1900's, my great-grandfather, Corwin Ray Tufford, moved from Toronto with his new bride, Mary, to settle in Edmonton. First choosing to reside downtown near 100th Avenue and 114th Street, they decided a move was in order once their family started to grow. They progressively moved west until finally settling on a large lot on the corner of 95th Avenue and 153rd Street in the Town of Jasper Place.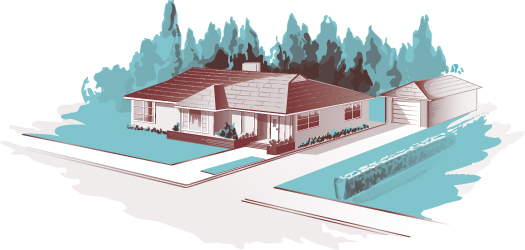 The family flourished in their new surroundings. Mr. Tufford became a councillor for the town and two of his daughters, Eleanore and Rosemary became star players for the Jasper Place Rustlers, a women's hockey team coached by Mr. Tufford. Under his management and coaching, the Rustlers won the first Dominion Women's Hockey Championship in 1933 and received the Lady Bessborough Trophy – a feat they were able to repeat in 1934.
In 1998, in recognition of his contributions to the city as a councillor for Jasper Place and as the coach of the Rustlers, Tufford Way in Terwillegar Towne was named for the Late C.R. Tufford who passed away in 1952.
The Tufford's youngest daughter, my great-aunt Eleanore, was born in 1915 and shared much of her father's drive and ambition. Following her success in women's hockey, Eleanore turned her focus to business and decided to pursue a career in real estate sales and property rentals. In March 1953, she incorporated Homes & Gardens Real Estate Limited and operated the company from the family home in Jasper Place. Eleanore chose this company name because her father always said, "What is a home without a garden?" Eleanore retired from real estate in the early 1980's and Homes & Gardens Real Estate Limited, while still a registered corporation, rested. I began my real estate career in February 2002 and acquired Homes & Gardens Real Estate Limited in August 2003.
Today, Homes & Gardens Real Estate Limited is still a family business, still an Edmonton based company and still available to meet all of your real estate needs. Our brokerage offers decades of combined real estate experience with a team of associates dedicated to outstanding customer service. Whether you are moving out, moving up, or moving on, our professional Real Estate Associates will guide you through the process, providing expert advice along the way.
Eleanore was a successful businesswoman and always had great marketing ideas. Fifty years ago, Eleanore published the first edition of About Homes & Gardens, a magazine for her many customers. The magazine featured 'The People's Market Place', a listing of local businesses owned and operated by people Eleanore knew personally – some still operate today.
Though the meaning has changed over time, Eleanore's motto, 'We Enjoy Giving Service', still applies at Homes & Gardens Real Estate Limited and we appreciate your business and welcome your referrals.
Cheers!
Michael C. Brodrick
Broker / Owner